**Upgraded** Pet Deshedding Grooming Gloves
**Upgraded* Pet Deshedding Grooming Gloves
Groom your pet with less mess

Grooming your pets fur does not have to be a hard task that leaves you and your surrounding covered in the hair your worked hard to get removed. No matter the length of fur, short or long, your pet deserves only the best deshedding experience.  Our gloves will capture every strand of excess hair to leave your pet and area as clean as possible as you strive to give that to them.
Avoid damage to your pet
Every pair of gloves are upgraded with HIGH QUALITY soft rubber tips to protect your pet while deshedding their coat. Especially in those hard to reach areas, where the hair is more sensitive, it is important to take extra care while performing maintenance on your pet to ensure no damage occurs to their skin as this could be very serious. Our gloves are all you need for deshedding your cats and dogs comfortably and safely. 
Multi-use 
These gloves can be used dry or wet! When needed, feel free to apply your pets favorite soap or shampoo directly onto the gloves rubber tips and deep clean their coat, no matter the length. The extra durable padding under the rubber tips and the breathable mesh on top keeps your hands dry and the gloves free of unwanted smells. Order a few pairs now and start giving your pets a better bath experience.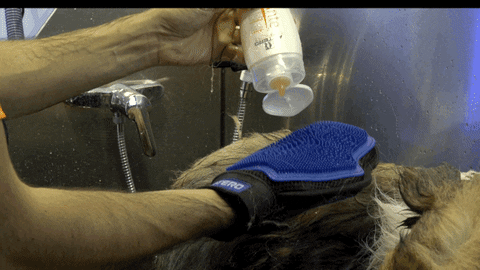 Work Smarter. Not Harder!
Here at Gittit we provide you gloves in PAIRS (left and right) designed for one size fit all, instead of just one glove. We help to reduce the time and energy spent grooming your pets by giving you the ability to use both hands. Shop Now.