Anxiety-Free Sleep Dog Bed
Anxiety-Free Sleep Dog Bed
Solve your dog's anxiety problem once and for all with this dog bed.
Anxiety in pets can be treated and virtually eliminated with proper sleep when necessary & that's where our bed comes in. Our anxiety-free sleep dog bed uses only top quality materials designed for premium comfort to create the best sleeping experience for your beloved pet(s) so they are able to calm down and remain calm.
Peace of mind knowing your pet feels secure when left alone.
Our anxiety-free sleep dog bed comes equipped with a blanket to give your pet a sense of security. When you leave your pet alone you will feel confident knowing your pet will be comfortable and have security from anxiety until you return. No longer will your pet cry, whine, or feel scared and helpless because our dog bed will ensure they feel safe and secure.
Made with TOP quality and care.

Our anxiety-free sleep dog bed is designed with only premium materials because we feel pets deserve the best! The inside of the bed is filled with high density cotton, meaning it is pressure-resistant and has great resilience to keep its shape. The bed material is also breathable to allow your dog to stay cool during hot seasons but still warm when cold.
Safe for Machine or Hand Wash 
Our dog beds are designed with a removable cleaning cover and equipped with a waterproof mattress cover, to eliminate the need of cleaning the mattress which saves it from deforming. Feel free to machine or hand wash the covers, whichever you prefer!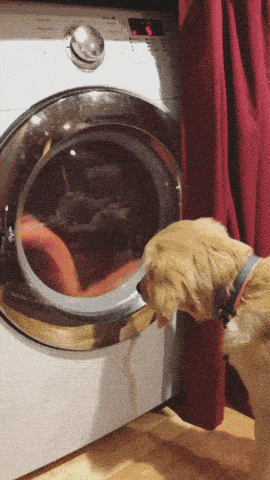 Please measure your pet first if unsure before ordering. 
Size (L / W / H - inches)
 Small - 20 * 16 * 7
Large - 31 * 25 * 8